Black Velvet Toasted Caramel
Whisky, 750 mL
| | |
| --- | --- |
| Country : | Canada |
| Region : | Alberta |
| Producer : | Les Distilleries Schenley Inc. |
| Alcohol : | 35 % |
| Grape variety(ies) : | Canada |
| Style : | Medium & Sweet |
| Color : | Amber |
| Container : | Clear Glass Container |
| Closure : | Plastic Screw Cap |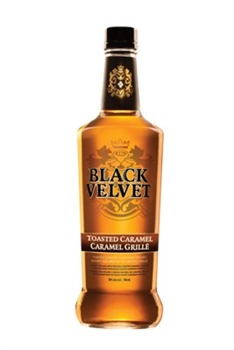 Tasting note
Deep gold with an amber hue; enticing aromas of salted caramel, honey, candied pecans and crème brûlée; flavours reflect what the aromas promised, with a bold sweetness and a long finish.
Whisky infused with natural toasted caramel flavours.
Black Velvet Toasted Caramel Flavoured Whisky is infused with sweet caramel flavour and a perfect balance of warm toasted notes. Uniquely smooth and flavourful, enjoy straight on the rocks, or as a key ingredient in many classic and handcrafted cocktails.
Black Velvet Toasted Caramel Whisky is a distinctive blend, infusing hints of sweet caramel into the smooth, easy drinking flavour you've come to expect from Black Velvet. A perfect balance of caramel flavour and warm, toasted notes allows its smooth, defined whisky character to come through. The result is a velvety, rich whisky you can enjoy straight, on the rocks, or blended with your favourite mixer.