Black Velvet Toasted Caramel
Whisky, 750 mL
| | |
| --- | --- |
| Pays : | Canada |
| Région : | Alberta |
| Producteur : | Les Distilleries Schenley Inc. |
| Alcool : | 35 % |
| Cépage(s) : | Canada |
| Style : | Mi-corsé Et Doux |
| Couleur : | Ambré(e) |
| Contenant : | Contenant De Verre Clair |
| Bouchon : | Plastique Vissé |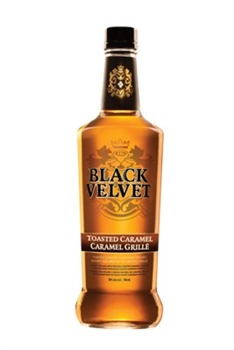 Note de dégustation
Robe or foncé avec nuances ambre; arômes séduisants de caramel salé, de miel, de pacane confite et de crème brûlée; la bouche très douce reprend les arômes du nez et prend fin avec une longue finale.
Note de dégustation (anglais)
Whisky infused with natural toasted caramel flavours.
Black Velvet Toasted Caramel Flavoured Whisky is infused with sweet caramel flavour and a perfect balance of warm toasted notes. Uniquely smooth and flavourful, enjoy straight on the rocks, or as a key ingredient in many classic and handcrafted cocktails.
Black Velvet Toasted Caramel Whisky is a distinctive blend, infusing hints of sweet caramel into the smooth, easy drinking flavour you've come to expect from Black Velvet. A perfect balance of caramel flavour and warm, toasted notes allows its smooth, defined whisky character to come through. The result is a velvety, rich whisky you can enjoy straight, on the rocks, or blended with your favourite mixer.