Chivas Royal Salute Scotch Blended
Scotch, 750 mL
| | |
| --- | --- |
| Country : | United Kingdom |
| Region : | Scotland |
| Producer : | Chivas Brothers Ltd. |
| Website : | www.chivas.com |
| Alcohol : | 40 % |
| Grape variety(ies) : | Scotland Blend |
| Style : | Bold & Spicy |
| Color : | Amber |
| Container : | Coloured Glass Container |
| Closure : | Cork |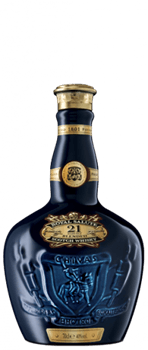 Price history
Tasting note
Deep amber in colour, with copper highlights; on the nose, vinous sherry-cask aromas are in the foreground, with notes of furniture polish, old oak, subtle peat smoke, honey and fresh flowers; smooth, round and velvety on the palate, yet with underlying power and complexity; honeyed flavours lead to a lightly smoky finish.
The Glenlivet 15 Year Old French Oak Reserve is beautifully structured with selective maturation in new French oak casks that come from the Dordogne region of France and are prized for the flavors they bring to fine wines.
Featured in TASTE Magazine, Winter 2012 issue. Launched as a tribute to honour Queen Elizabeth's Coronation in 1953, this refined, complex blend of grain and malt whiskies is aged for 21 years. Medium amber in colour and finely structured, with satiny notes of dried fruit, nuts, spices and leather, it's an elegant luxurious sipper.