Chivas Royal Salute Scotch Blended
Scotch, 750 mL
| | |
| --- | --- |
| Pays : | Royaume-Uni |
| Région : | Écosse |
| Producteur : | Chivas Brothers Ltd. |
| Site web : | www.chivas.com |
| Alcool : | 40 % |
| Cépage(s) : | Whisky écossais blend |
| Style : | Puissant Et Épicé |
| Couleur : | Ambré(e) |
| Contenant : | Contenant De Verre Coloré |
| Bouchon : | Liège |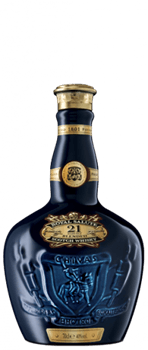 Historique des prix
Note de dégustation
Riche robe ambre; nez exquis, aux arômes subtils et complexes; saveurs profondes et corsées; un assemblage harmonieux de très vieux whiskys.
Note de dégustation (anglais)
The Glenlivet 15 Year Old French Oak Reserve is beautifully structured with selective maturation in new French oak casks that come from the Dordogne region of France and are prized for the flavors they bring to fine wines.
Featured in TASTE Magazine, Winter 2012 issue. Launched as a tribute to honour Queen Elizabeth's Coronation in 1953, this refined, complex blend of grain and malt whiskies is aged for 21 years. Medium amber in colour and finely structured, with satiny notes of dried fruit, nuts, spices and leather, it's an elegant luxurious sipper.