Grey Goose
Vodka, 1.75 L
| | |
| --- | --- |
| Country : | France |
| Producer : | Grey Goose SAS |
| Website : | www.greygoose.com |
| Alcohol : | 40 % |
| Style : | Smooth & Spicy |
| Container : | Clear Glass Container |
| Closure : | Cork |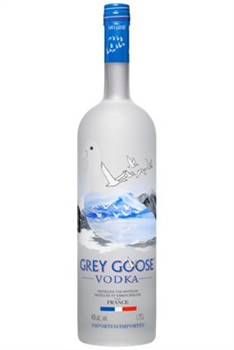 Tasting note
Using only the finest ingredients, Grey Goose is renowned for its smooth and silky character. Expect subtle aromas of sweet citrus and white flowers; the palate is soft with a gentle and subtle sweetness that envelops your mouth; warm and spicy on the finish. Perfect in a classic martini.
Clear. Hints of grain on the nose, combined with mineral water, giving it a clean, smooth finish.
The world's best tasting vodka, Grey Goose is crafted in the Cognac region of France using the finest French wheat and naturally filtered spring water. Grey Goose is lush smooth, rounded and melts in the mouth with a long-lasting satisfying finish. Aroma: Clear, fresh and elegant. Palate: Soft, gentle and full-balanced. Finish: Long lasting and satisfying with flavors reminiscent of a fine almond paste.