Grey Goose
Vodka, 1,75 L
| | |
| --- | --- |
| Pays : | France |
| Producteur : | Grey Goose SAS |
| Site web : | www.greygoose.com |
| Alcool : | 40 % |
| Style : | Moelleuse Et Épicée |
| Contenant : | Contenant De Verre Clair |
| Bouchon : | Liège |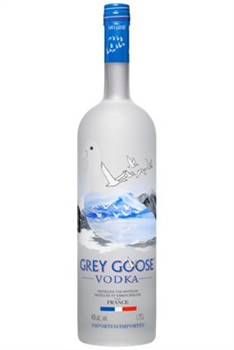 Note de dégustation
Robe limpide comme de l'eau; arômes subtils d'agrumes et de fleurs blanches; bouche tendre légèrement douce qui tapisse le palais; finale chaleureuse et épicée.
Note de dégustation (anglais)
Clear. Hints of grain on the nose, combined with mineral water, giving it a clean, smooth finish.
The world's best tasting vodka, Grey Goose is crafted in the Cognac region of France using the finest French wheat and naturally filtered spring water. Grey Goose is lush smooth, rounded and melts in the mouth with a long-lasting satisfying finish. Aroma: Clear, fresh and elegant. Palate: Soft, gentle and full-balanced. Finish: Long lasting and satisfying with flavors reminiscent of a fine almond paste.