Jägermeister
Liqueur, 750 mL
| | |
| --- | --- |
| Country : | Germany |
| Producer : | Mast-Jägermeister AG |
| Website : | www.jagermeister.com |
| Alcohol : | 35 % |
| Style : | Warm & Herbal |
| Color : | Brown |
| Container : | Coloured Glass Container |
| Closure : | Metal Screw Cap |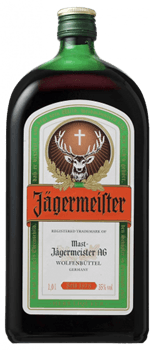 Tasting note
Deep brown with amber tones; assertive aromas of sweet herbs, cola and spice; the palate shows some sweetness with flavours that reflect the aromas with the addition of distinct licorice notes; medium-long finish.
Amber colour; herbal, spice and citrus aroma; bitter/sweet flavours are balanced 56 herbs, roots & fruits make up unique taste.
Strong and complex liqueur, with hints of citrus, star anise, ginger. Made with 56 precious herbs, woods, spices, fruits, blossoms, seeds and roots. Unmistakably Jägermeister. Best consumed ice-cold.
Featured in TASTE Magazine, Winter 2012 issue.Germany's best-selling spirit is both a bitter and a liqueur and also something of a mystery. It is a secret blend of 56 fruits, roots and herbs with a slightly syrupy texture and sweet, medicinal and spicy flavours including licorice and cinnamon. It is best enjoyed ice cold.