Jägermeister
Liqueur, 750 mL
| | |
| --- | --- |
| Pays : | Allemagne |
| Producteur : | Mast-Jägermeister AG |
| Site web : | www.jagermeister.com |
| Alcool : | 35 % |
| Style : | Chaleureuse Et Herbacée |
| Couleur : | Brun(e) |
| Contenant : | Contenant De Verre Coloré |
| Bouchon : | Métal Vissé |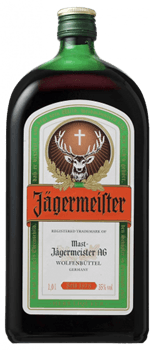 Note de dégustation
Robe d'un brun profond aux reflets ambrés; arômes soutenus d'herbes douces, de cola et d'épices; bouche d'une certaine douceur réitérant les mêmes arômes avec, de surcroît, des notes distinctes de réglisse; finale moyennement longue.
Note de dégustation (anglais)
Amber colour; herbal, spice and citrus aroma; bitter/sweet flavours are balanced 56 herbs, roots & fruits make up unique taste.
Strong and complex liqueur, with hints of citrus, star anise, ginger. Made with 56 precious herbs, woods, spices, fruits, blossoms, seeds and roots. Unmistakably Jägermeister. Best consumed ice-cold.
Featured in TASTE Magazine, Winter 2012 issue.Germany's best-selling spirit is both a bitter and a liqueur and also something of a mystery. It is a secret blend of 56 fruits, roots and herbs with a slightly syrupy texture and sweet, medicinal and spicy flavours including licorice and cinnamon. It is best enjoyed ice cold.