Lagavulin 16 Ans Islay Scotch Single Malt
Scotch, 750 mL
| | |
| --- | --- |
| Country : | United Kingdom |
| Region : | Scotland |
| Subregion : | Islay |
| Producer : | Lagavulin Distillery |
| Website : | www.malts.com |
| Alcohol : | 43 % |
| Grape variety(ies) : | Scotland Malt |
| Style : | Medium & Smoky |
| Color : | Amber |
| Container : | Coloured Glass Container |
| Closure : | Cork With Plastic Head |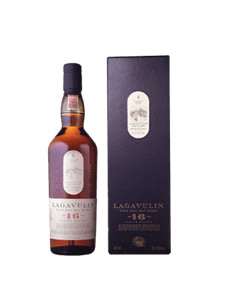 Tasting note
Considered by many to be the benchmark for Islay malts this classic pours a golden amber colour and wafts from your glass with intense smoky peat and iodine. The palate is full flavour, rich and smooth with peat, figs, dates, and vanilla followed by an enduring smoky and dry finish.
Nose: massive peat. The fruity-sherry notes are clean. Vanilla is much deeper. Palate: peaty, chewy iodine bolstered by sherry and big oak. Finish: a little spice lightens the peat and vanilla. Dries off with malt, dried dates and iodine.
Nose: More like Lapsang Souchong tea than Lapsang Souchong! One of the smokiest noses from Islay. It's big, very, very concentrated, and redolent of iodine, sweet spices, good, mature sherry and creamy vanilla. Stunning. Palate: Very thick and rich. A massive mouthful of malt and sherry with good fruity sweetness, but also a wonderful sweetness. Big, powerful peat and oak. Finish: Long, spicy finish, figs, dates, peat smoke, vanilla.
This highly esteemed, classic dry islay single malt – matured in beachside sheds – has powerful peat smoke and salt that leap out of the glass. it is laced with bracing iodine and seaweed with fruity, floral notes chased with dust and smoke. This revered "peat monster" rolls out powerful, salty peaty, medicinal notes in a long finish. (islay)