Lagavulin 16 Ans Islay Scotch Single Malt
Scotch, 750 mL
| | |
| --- | --- |
| Pays : | Royaume-Uni |
| Région : | Écosse |
| Sous région : | Islay |
| Producteur : | Lagavulin Distillery |
| Site web : | www.malts.com |
| Alcool : | 43 % |
| Cépage(s) : | Whisky écossais de malt |
| Style : | Mi-corsé Et Fumé |
| Couleur : | Ambré(e) |
| Contenant : | Contenant De Verre Coloré |
| Bouchon : | Liège Avec Tête De Plastique |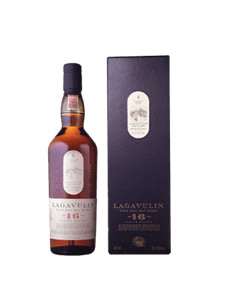 Note de dégustation
Couleur ambre doré; nez intense de tourbe fumée et iodée; savoureux en bouche; longue finale de caractère sec et fumé.
Note de dégustation (anglais)
Nose: massive peat. The fruity-sherry notes are clean. Vanilla is much deeper. Palate: peaty, chewy iodine bolstered by sherry and big oak. Finish: a little spice lightens the peat and vanilla. Dries off with malt, dried dates and iodine.
Nose: More like Lapsang Souchong tea than Lapsang Souchong! One of the smokiest noses from Islay. It's big, very, very concentrated, and redolent of iodine, sweet spices, good, mature sherry and creamy vanilla. Stunning. Palate: Very thick and rich. A massive mouthful of malt and sherry with good fruity sweetness, but also a wonderful sweetness. Big, powerful peat and oak. Finish: Long, spicy finish, figs, dates, peat smoke, vanilla.
This highly esteemed, classic dry islay single malt – matured in beachside sheds – has powerful peat smoke and salt that leap out of the glass. it is laced with bracing iodine and seaweed with fruity, floral notes chased with dust and smoke. This revered "peat monster" rolls out powerful, salty peaty, medicinal notes in a long finish. (islay)