Laphroaig 10 Ans Islay Scotch Single Malt
Scotch, 750 mL
| | |
| --- | --- |
| Country : | United Kingdom |
| Region : | Scotland |
| Subregion : | Islay |
| Producer : | D. Johnston & Co. |
| Website : | www.laphroaig.com |
| Alcohol : | 43 % |
| Grape variety(ies) : | Scotland Malt |
| Style : | Bold & Smoky |
| Color : | Amber |
| Container : | Coloured Glass Container |
| Closure : | Cork |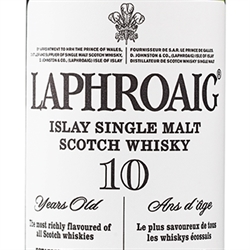 Tasting note
Distilled in the same way since its inception over 75 years ago, this ten-year-old pours a brilliant gold colour; smoky aromas fill the glass along with some seaweed and medicinal notes and just a hint of sweetness; full rounded mouthfeel with inviting sweetness, hints of sea salt and lingering peatiness on the finish.
COLOUR : Full sparkling gold NOSE: Huge smoke, seaweedy, medicinal , with a hint of sweetness BODY: Full bodied PALATE: Surprising sweetness with hints of salt and layers of peatiness FINISH: Lingering
Bright golden amber; aromas of smoke, toasted coconut, vanilla and roasted seaweed; warming alcohol, full bodied, with pronounced flavours of smoke, ocean mist, dried flowers and a balancing sweet vanilla.
Featured in TASTE Magazine, Winter 2012 issue. This aromatic single malt from the remote Isle of Islay is one of Scotland's most characterful and recognizable. Burnished amber in colour, it has plenty of smoky peat and salt aromas. Full-bodied, sweet, briny and bitter with smoke and iodine, Laphroaig finishes long, smoky and sweet. Sip and savour.