Revel Stoke Spiced Whisky
Whisky, 750 mL
| | |
| --- | --- |
| Country : | Canada |
| Producer : | Phillips Beverage Company |
| Website : | www.revelstokewhisky.com |
| Alcohol : | 45 % |
| Grape variety(ies) : | Canada |
| Container : | Glass |
| Closure : | Screw-top |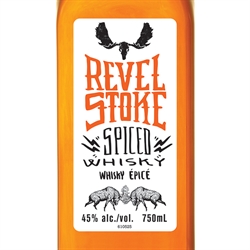 Tasting note
Triple distilled in copper stills then aged in charred oak barrels for added character. Pouring a clear amber colour the nose is intensely fragrant with notes of caramel, vanilla, cinnamon, nutmeg and spice aromas; caramel and rich spice flavours are found on the palate followed by a long flavourful finish.
Canadian whisky infused with vanilla and spices.
Inspired by the age-old tradition of rugged Canadian outdoorsmen infusing their shisky with vanilla and spices. Revel Stoke is a remarkably smooth yet formidable spirit. Enjoy this Canadian Original straight, on the rocks, with cola or with ginger ale.
Revel Stoke's first spiced whisky and winner of the Spirits International Prestige Award. Features hints of vanilla, ginger, cinnamon, coriander and cardamom.