Revel Stoke Spiced Whisky
Whisky, 750 mL
| | |
| --- | --- |
| Pays : | Canada |
| Producteur : | Phillips Beverage Company |
| Site web : | www.revelstokewhisky.com |
| Alcool : | 45 % |
| Cépage(s) : | Canada |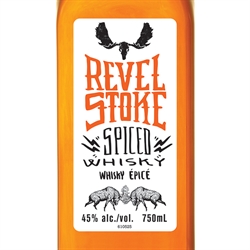 Note de dégustation
Robe ambre limpide; arômes de caramel, de vanille, de cannelle, de muscade et d'épices; la bouche répercute les riches nuances de caramel et d'épices; finale longue.
Note de dégustation (anglais)
Canadian whisky infused with vanilla and spices.
Inspired by the age-old tradition of rugged Canadian outdoorsmen infusing their shisky with vanilla and spices. Revel Stoke is a remarkably smooth yet formidable spirit. Enjoy this Canadian Original straight, on the rocks, with cola or with ginger ale.
Revel Stoke's first spiced whisky and winner of the Spirits International Prestige Award. Features hints of vanilla, ginger, cinnamon, coriander and cardamom.