The Famous Grouse Whisky Écossais Mélangé
Scotch, 750 mL
| | |
| --- | --- |
| Country : | United Kingdom |
| Region : | Scotland |
| Subregion : | Lowlands |
| Producer : | Highland Park Distillery Ltd |
| Website : | www.thefamousgrouse.com |
| Alcohol : | 40 % |
| Grape variety(ies) : | Scotland Blend |
| Style : | Medium & Fruity |
| Color : | Amber |
| Container : | Clear Glass Container |
| Closure : | Metal Screw Cap |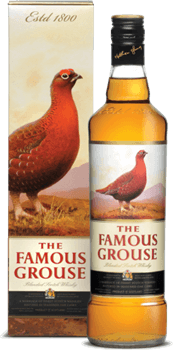 Tasting note
Crafted form the finest malt whiskies and married with exceptional grain whiskies, the blend is matured in sherry oak casks resulting in a dram that is exceptionally smooth.Golden amber colour; fruity sweetness is balanced by soft smoke in aroma and flavour; medium-bodied with a round warm finish.
The Macallan and Highland Park are married with fine grain whiskies to create the exceptional Famous Grouse. There is oak and sherry on the nose, with a citrus note and on the palate it is mature, easy-going and full of bright Speyside fruit with a clean medium dry finish.
Lovely, delicate and floral on the nose grains and malts working in perfect harmony. Deceptively rich and full for what is really quite a light bodied blend. Fruity, with a touch of smoke. Brittle toffee and spices, along with a hint of grain, in the medium finish. ' Grouse' cleverly manages to suggest that its component whiskies are older than they probably are. A classic example of how good ' standard' blended whisky at an affordable price can be.
Featured in TASTE Magazine, Winter 2012 issue. Allegedly Scotland's favourite and best-selling blended whisky, Famous Grouse, named for Scotland's iconic red grouse, contains The Macallan and Highland Park scotches. Light and easy-drinking, The Famous Grouse is pleasantly peaty and malty with toffee, mild spice, flowers, apples and citrus. Mix or enjoy neat.