The Famous Grouse Whisky Écossais Mélangé
Scotch, 750 mL
| | |
| --- | --- |
| Pays : | Royaume-Uni |
| Région : | Écosse |
| Sous région : | Lowlands |
| Producteur : | Highland Park Distillery Ltd |
| Site web : | www.thefamousgrouse.com |
| Alcool : | 40 % |
| Cépage(s) : | Whisky écossais blend |
| Style : | Mi-corsé Et Fruité |
| Couleur : | Ambré(e) |
| Contenant : | Contenant De Verre Clair |
| Bouchon : | Métal Vissé |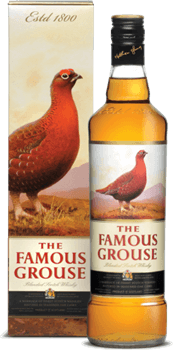 Note de dégustation
Robe ambre doré; flaveurs fruitées, sucrées et fumées; mi-corsé, chaud et rond en bouche.
Note de dégustation (anglais)
The Macallan and Highland Park are married with fine grain whiskies to create the exceptional Famous Grouse. There is oak and sherry on the nose, with a citrus note and on the palate it is mature, easy-going and full of bright Speyside fruit with a clean medium dry finish.
Lovely, delicate and floral on the nose grains and malts working in perfect harmony. Deceptively rich and full for what is really quite a light bodied blend. Fruity, with a touch of smoke. Brittle toffee and spices, along with a hint of grain, in the medium finish. ' Grouse' cleverly manages to suggest that its component whiskies are older than they probably are. A classic example of how good ' standard' blended whisky at an affordable price can be.
Featured in TASTE Magazine, Winter 2012 issue. Allegedly Scotland's favourite and best-selling blended whisky, Famous Grouse, named for Scotland's iconic red grouse, contains The Macallan and Highland Park scotches. Light and easy-drinking, The Famous Grouse is pleasantly peaty and malty with toffee, mild spice, flowers, apples and citrus. Mix or enjoy neat.