Bollinger Spécial Cuvée Brut
Sparkling wine, 750 mL
Country :
France
Region :
Champagne
Subregion :
Vallée de la Marne
Producer :

Champagne Bollinger

Website :
www.champagne-bollinger.fr/
Alcohol :
12 %
Designation of origin :
Champagne
Grape variety(ies) :
Pinot noir 60%
Chardonnay 25%
Pinot meunier 15%
Style :
Rich & Complex
Color :
White
Container :
Coloured Glass Container
Closure :
Cork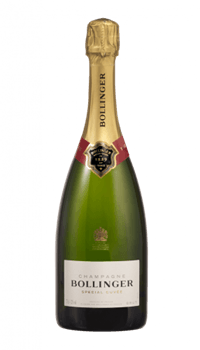 Tasting note
A rich, smoky Champagne, with hints of marzipan and fennel seed accenting honeyed malt, bread dough, baked apple and gingersnap flavors. It's all focused by intense acidity, which meshes beautifully into the layers of flavor and refined texture, with a lingering finish. Drink now through 2021. Highly Recommended. Score - 94. (Alison Napjus, winespectator.com, Dec. 31, 2010)
Special Cuvee is the purest expression of Champagne Bollinger's style. A blend that is constant both in style and quality. Unique combination of power and finesse, depth and balance.
Complex aromas, ripe, spicy fruits, roasted apple, peach. Combination of structure, length and liveliness. Pear, brioche and spices.
"Toasty, rich and full bodied, this Champagne retains great elegance on the palate. It will stand up to roast meats well, so share a bottle over dinner!" This product is was chosen by our expert Barbara to be featured as an Insider Pick for May, 2015.