D'arenberg The Stump Jump Grenache / Shiraz / Mourvèdre
Red Wine, 750 mL
Country :
Australia
Region :
South Australia
Producer :

D'Arenberg Pty Ltd

Website :
www.darenberg.com.au
Alcohol :
14 %
Grape variety(ies) :
Grenache 50%
Shiraz 29%
Mourvèdre 21%
Style :
Medium-bodied & Fruity
Color :
Red
Container :
Coloured Glass Container
Closure :
Metal Screw Cap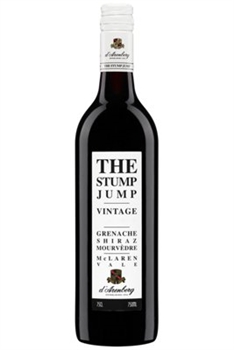 Tasting note
This dry ruby coloured wine features intense animal, woody, spicy, floral and fruity scents and offers a broad texture as well as firm tannins.
d'Arenberg The Stump Jump Grenache Shiraz is a rich, soft and flavoursome red in the traditional McLaren Vale style. Mulberry and plum flavours from the Grenache combine with the blackberry, spice and white pepper of the Shiraz.
The 2009 Stump Jump Red nose features plum and bright red fruits with a hint of roasted meats, earth, pepper and exotic spices. The palate displays delicate fruit with juicy blackberry at the fore. A touch of dried herbs adds a savory edge with fine, lifted tannins providing a long finish. It's a cracking wine with sophistication but don't worry it's still a lot of fun.
From Shiraz there are dark plum fruits, mulberries, licorice and white pepper. Grenache adds lusciousness with raspberry, blueberry and floral notes, and, finally, the Mourvèdre imparts elegance and restraint through dried fruits and a hint of dried herbs. Pair with full-flavoured red meat dishes, especially barbecued or roasted lamb. JANUARY 2014 Insider Pick from Kim Giesbrecht, Portfolio Manager for Wines of Australia, New Zealand, Beer, and Refreshment Beverages:  "Juicy and affordable, this GSM blend has crowd appealing supple, plum and spice flavours that linger pleasantly on the finish."