D'arenberg The Stump Jump Grenache / Shiraz / Mourvèdre
Vin rouge, 750 mL
Pays :
Australie
Région :
Australie-Méridionale
Producteur :

D'Arenberg Pty Ltd

Site web :
www.darenberg.com.au
Alcool :
14 %
Cépage(s) :
Grenache 50%
Shiraz 29%
Mourvèdre 21%
Style :
Mi-corsé Et Fruité
Couleur :
Rouge
Contenant :
Contenant De Verre Coloré
Bouchon :
Métal Vissé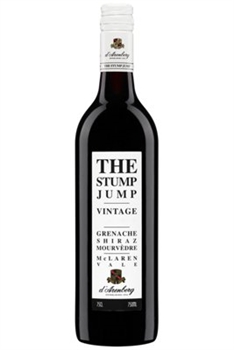 Note de dégustation
Robe de couleur rubis de bonne intensité. Nez puissant d'où émanent des parfums de fruits cuits, de terre humide, de cuir et d'épices. Le tout est complété par de subtiles notes florales. Ce rouge sec possède une faible acidité et est doté de tannins fermes. Fidèle aux parfums perçus à l'olfaction, il laisse percevoir des flaveurs de prune, de poivre et de bois. Il dévoile une bouche ample qui précède une finale assez persistante.
Note de dégustation (anglais)
d'Arenberg The Stump Jump Grenache Shiraz is a rich, soft and flavoursome red in the traditional McLaren Vale style. Mulberry and plum flavours from the Grenache combine with the blackberry, spice and white pepper of the Shiraz.
The 2009 Stump Jump Red nose features plum and bright red fruits with a hint of roasted meats, earth, pepper and exotic spices. The palate displays delicate fruit with juicy blackberry at the fore. A touch of dried herbs adds a savory edge with fine, lifted tannins providing a long finish. It's a cracking wine with sophistication but don't worry it's still a lot of fun.
From Shiraz there are dark plum fruits, mulberries, licorice and white pepper. Grenache adds lusciousness with raspberry, blueberry and floral notes, and, finally, the Mourvèdre imparts elegance and restraint through dried fruits and a hint of dried herbs. Pair with full-flavoured red meat dishes, especially barbecued or roasted lamb. JANUARY 2014 Insider Pick from Kim Giesbrecht, Portfolio Manager for Wines of Australia, New Zealand, Beer, and Refreshment Beverages:  "Juicy and affordable, this GSM blend has crowd appealing supple, plum and spice flavours that linger pleasantly on the finish."