Lindeman's Bin 65 Chardonnay
White Wine, 750 mL
| | |
| --- | --- |
| Country : | Australia |
| Region : | South Australia |
| Producer : | Lindemans Wines |
| Website : | www.lindemans.com |
| Alcohol : | 13.5 % |
| Grape variety(ies) : | Chardonnay |
| Style : | Full-bodied & Rich |
| Color : | White |
| Container : | Coloured Glass Container |
| Closure : | Metal Screw Cap |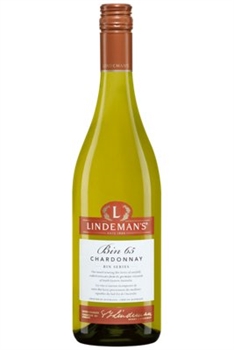 Tasting note
Light yellow gold colour; floral with citrus and vanilla aromas; ripe fruit flavours; soft clean finish
This dry and straw yellow coloured white showcases a complex nose releasing woody, spicy and fruity scents. You will be charmed with this medium-bodied wine revealing a broad texture and a medium finish.
Full-bodied and soft with bright varietal flavours of pineapple and fig. The palate is creamy and smooth with light touches of spice that define the long, stylish finish.
A medium to full bodied wine with elegant chardonnay flavours of stone fruit, citrus and honey. The mid-palate is creamy and generous with cedar and spice flavours developing to a finish of good length and juicy acidity.
The LINDEMANS Bin 65 Chardonnay showcases tropical fruit aromas, with stone fruit notes and hints of spice. A delightful medium to full bodied Chardonnay with excellent varietal favors of melon and peach. The palate is soft and smooth with spice hints across the long, balanced finish.
A delightful medium-bodied Chardonnay with orchard fruit aromas of white peach and red apple and hints of spicy oak play. With excellent flavours of melon and white peach, the palate is smooth and crisp with a lengthy finish. Try it with creamy cheeses, roasted chicken or fresh seafood.