Lindeman's Bin 65 Chardonnay
Vin blanc, 750 mL
| | |
| --- | --- |
| Pays : | Australie |
| Région : | Australie-Méridionale |
| Producteur : | Lindemans Wines |
| Site web : | www.lindemans.com |
| Alcool : | 13,5 % |
| Cépage(s) : | Chardonnay |
| Style : | Corsé Et Riche |
| Couleur : | Blanc |
| Contenant : | Contenant De Verre Coloré |
| Bouchon : | Métal Vissé |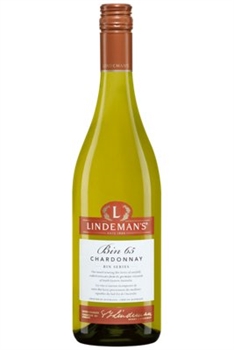 Note de dégustation
Robe jaune or pâle; arômes de fleurs et d'agrumes avec des notes vanillées; saveurs de fruits mûrs, finale souple et nette.
Robe exhibant une couleur jaune paille plutôt profond. Nez assez puissant qui s'ouvre sur des arômes de pomme golden, de beurre et de bois. À cela s'ajoutent des effluves de vanille. Ce blanc sec possède une bonne acidité. En bouche, sa texture grasse s'estompe dans une finale assez persistante.
Note de dégustation (anglais)
Full-bodied and soft with bright varietal flavours of pineapple and fig. The palate is creamy and smooth with light touches of spice that define the long, stylish finish.
A medium to full bodied wine with elegant chardonnay flavours of stone fruit, citrus and honey. The mid-palate is creamy and generous with cedar and spice flavours developing to a finish of good length and juicy acidity.
The LINDEMANS Bin 65 Chardonnay showcases tropical fruit aromas, with stone fruit notes and hints of spice. A delightful medium to full bodied Chardonnay with excellent varietal favors of melon and peach. The palate is soft and smooth with spice hints across the long, balanced finish.
A delightful medium-bodied Chardonnay with orchard fruit aromas of white peach and red apple and hints of spicy oak play. With excellent flavours of melon and white peach, the palate is smooth and crisp with a lengthy finish. Try it with creamy cheeses, roasted chicken or fresh seafood.