Louis Roederer Cristal
Sparkling wine, 750 mL
Country :
France
Region :
Champagne
Subregion :
Montagne de Reims
Producer :

Louis Roederer

Website :
www.champagne-roederer.com
Alcohol :
12 %
Designation of origin :
Champagne
Grape variety(ies) :
Pinot noir 55%
Chardonnay 45%
Style :
Rich & Complex
Color :
White
Container :
Coloured Glass Container
Closure :
Cork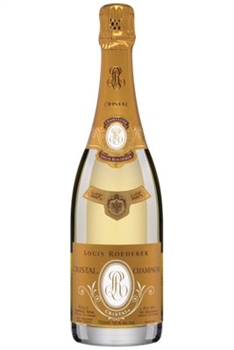 Tasting note
An iconic luxury Champagne that has consistently scored 92 or higher in top critic Robert Parker Jr.'s Wine Advocate. The last four vintages scored between 95 and 98.Deserves only the finest - sip it with caviar or roasted lobster.
This dry golden yellow sparkling wine features intense empyreumatic, spicy, fruity and mineral scents and offers fine and persistent bubbles. Discover this full-bodied sparkling wine expressing lively acidity and offering a broad texture.
Cristal is a remarkably balanced and refined champagne whose length is inimitable. It has a silky texture and fruity aromas, complemented by a powerful mineral quality with white fruit and citrus notes. Cristal is a wine that keeps well: it can be conserved for over twenty years without losing its freshness and character.