Mission Hill Quatrain
Red Wine, 750 mL
Country :
Canada
Region :
British Columbia
Subregion :
Okanagan Valley
Producer :

Mission Hill Family Estate

Website :
www.missionhillwinery.com/
Alcohol :
13.8 %
Designation of origin :
Okanagan Valley
Grape variety(ies) :
Merlot 32%
Cabernet franc 24%
Cabernet sauvignon 22%
Shiraz 22%
Color :
Red
Container :
Coloured Glass Container
Closure :
Cork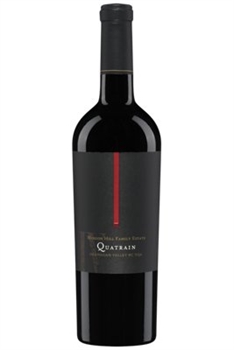 Tasting note
This dry cherry-red coloured wine features medium woody, empyreumatic, spicy and fruity scents and offers a broad texture as well as fleshy tannins.
A vivid core of ripe berry fruit shaded by dusty mocha and gamey licorice notes. The texture is pure South Okanagan; rich and supple with some chalky tannins. A plummy red wine with a hint of chocolate.
Spectacularly rich, complex and deep. This towering red offers aromas of dark red fruit, smoke, dried herbs and cigar box. It's a multi-layered wine that will cellar very well.
Inspiration for this wine comes oddly enough from a blue chip Italian wine that opted for Syrah as a component in an otherwise Bordeaux blend. Also Syrah seems so at home in the growing situation of the southern Okanagan (and also in the glass from wines produced here). Comprised of 35 percent Merlot, 30 percent Syrah, 20 percent Cabernet Sauvignon and 15 percent Cabernet Franc, the wine offers some gamey biscuity hints in a very angular, taut profile. Very much crafted to be a wine for down the road, it is intensely coiled and worthy of patience to evolve over the next 10 years.