Mission Hill Quatrain
Vin rouge, 750 mL
Pays :
Canada
Région :
Colombie-Britannique
Sous région :
Vallée de l'Okanagan
Producteur :

Mission Hill Family Estate

Site web :
www.missionhillwinery.com/
Alcool :
13,8 %
Appellation :
Vallée de l'Okanagan
Cépage(s) :
Merlot 32%
Cabernet franc 24%
Cabernet-sauvignon 22%
Shiraz 22%
Couleur :
Rouge
Contenant :
Contenant De Verre Coloré
Bouchon :
Liège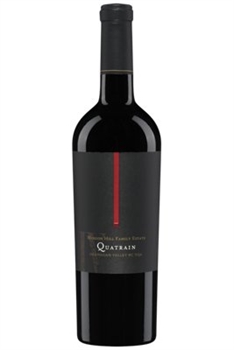 Note de dégustation
Vin de teinte rouge cerise sombre. Nez d'où émanent des notes de torréfaction et de fruits noirs. À cela s'ajoutent des arômes de chêne et de vanille. Ce produit sec exprime une acidité rafraîchissante et est muni de tannins charnus. Fidèle aux effluves perçus à l'olfaction, il évoque des flaveurs de myrtille et de chêne grillé. Révélant une bouche ample, il persiste longuement dans une belle finale.
Note de dégustation (anglais)
A vivid core of ripe berry fruit shaded by dusty mocha and gamey licorice notes. The texture is pure South Okanagan; rich and supple with some chalky tannins. A plummy red wine with a hint of chocolate.
Spectacularly rich, complex and deep. This towering red offers aromas of dark red fruit, smoke, dried herbs and cigar box. It's a multi-layered wine that will cellar very well.
Inspiration for this wine comes oddly enough from a blue chip Italian wine that opted for Syrah as a component in an otherwise Bordeaux blend. Also Syrah seems so at home in the growing situation of the southern Okanagan (and also in the glass from wines produced here). Comprised of 35 percent Merlot, 30 percent Syrah, 20 percent Cabernet Sauvignon and 15 percent Cabernet Franc, the wine offers some gamey biscuity hints in a very angular, taut profile. Very much crafted to be a wine for down the road, it is intensely coiled and worthy of patience to evolve over the next 10 years.