Robert Mondavi Napa Valley Cabernet-Sauvignon
Red Wine, 750 mL
Country :
United States
Region :
California
Subregion :
Napa
Producer :

Robert Mondavi Winery

Website :
www.rmprivateselection.com
Alcohol :
14.5 %
Designation of origin :
Napa Valley
Grape variety(ies) :
Cabernet sauvignon 75%
Merlot 12%
Cabernet franc 11%
Syrah 2%
Style :
Full-bodied & Firm
Color :
Red
Container :
Coloured Glass Container
Closure :
Cork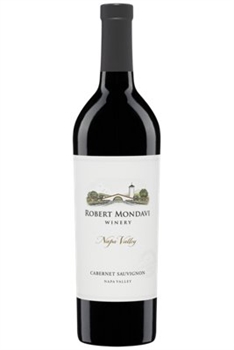 Tasting note
The late Robert Mondavi is considered the godfather of the California wine movement. This classic Cab - with cassis, blackberry and cedar notes - has been made since the winery's founding in 1966. Enjoy it with hearty dishes: meaty lasagna or filet mignon.
This dry and ruby coloured red showcases a complex nose releasing animal, empyreumatic, spicy, fruity and vegetal scents. You will be charmed with this full-bodied wine revealing a broad texture, firm tannins and a long finish.
A wine with perfumed aromas and flavours of blackberry, cassis, black olive and dark chocolate. Smooth and supple with fine-grained tannins, good acidity and a lengthy finish.
The wine has a smooth texture and sweet, red-fruit character that distinguishes California' s finest Cabernet Sauvignons. Flavors of cherry and blueberry, along with smoky oak and vanilla accents invigorate the palate and provide a lengthy finish. Enjoy with standing rib roasts, grilled steak, roast duck, spareribs, lasagna, or flavorful hard cheeses.
*Please note that prices shown exclude taxes. Taxes and container deposit, if applicable, will be applied at checkout. The price disclaimer below may not be correct.*