Ruffino Ducale Riserva
Red Wine, 750 mL
Country :
Italy
Region :
Tuscany
Producer :

Ruffino SRL

Website :
www.ruffino.com
Alcohol :
12.5 %
Designation of origin :
Chianti Classico
Grape variety(ies) :
Sangiovese
Cabernet Sauvignon
Merlot
Style :
Medium-bodied & Fruity
Color :
Red
Container :
Coloured Glass Container
Closure :
Cork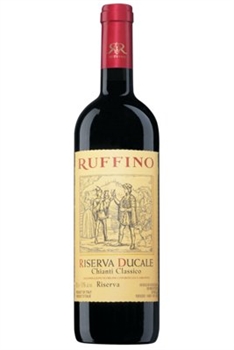 Tasting note
Bright ruby colour; cherry, plum, spice, and leather notes on the nose; dry, medium to full bodied, tart cherry and plum flavours with hints of cedar, firm, tannins and a long spicy finish.
This dry and orangey red coloured red showcases a complex nose releasing woody, spicy, floral and fruity scents. You will be charmed with this medium-bodied wine revealing a broad texture, smooth tannins and a medium finish.
Intense, velvety and crispy. Sensations of fragrant fresh fruit are accompanied by steady yet gentle tannins, that exalt enjoyable spicy hints. The whole tasting sensation is enriched by a persistent finish, that is incredibly fresh and pleasantly mineral and presents an aftertaste with fascinating notes of rosemary.
Ruby red in color, with garnet hues; fragrant, sweet cherry and red berry fruit notes; delicately spicy hints of tobacco and white pepper lead into aromas of roses and a touch of flint; well-balanced with velvety tannins and good acidity, a fruity core spiced with cacao and clove; lingering finish of rosemary and figs.
As featured in Taste Magazine, Spring 2013. This ruby red blend is aged for 24 months before bottling. The bouquet is elegant, characterized by violet, cherries, wild berries and plums along with hints of tobacco and white pepper. Fragrant fresh fruit in the mouth is accompanied by firm yet gentle tannins and by a pleasant minerality and notes of rosemary.