Veuve Clicquot Ponsardin Demi-Sec
Sparkling wine, 750 mL
Country :
France
Region :
Champagne
Subregion :
Montagne de Reims
Producer :

Veuve Clicquot Ponsardin

Website :
www.veuve-clicquot.com
Alcohol :
12.3 %
Designation of origin :
Champagne
Grape variety(ies) :
Pinot noir 40%
Pinot meunier 30%
Chardonnay 30%
Style :
Rich & Complex
Color :
White
Container :
Coloured Glass Container
Closure :
Cork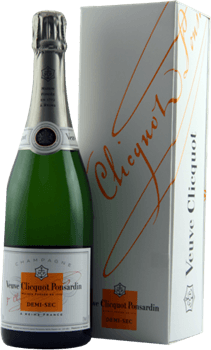 Tasting note
Pale lemon colour with fine bubbles; aromas of golden apple, pear, apricots and fresh brioche; medium sweet, full-bodied and a creamy mouthfeel; flavours of ripe stone fruit, orange marmalade and toasty, brioche notes that linger making for an elegant finish.
This medium-dry golden yellow sparkling wine features medium empyreumatic and fruity scents and offers fine and persistent bubbles. Discover this full-bodied sparkling wine expressing lively acidity and offering a full-bodied texture.
rich sense of ripe fruit. Delightful freshness with light acidity. Pear tarts and apricots.
The strength of this golden-yellow wine is immediately pleasing to the nose while its complexity explodes on the palate. The initial notes of fruit are followed by more discreet aromas of brioche and vanilla when the wine is allowed to age in the bottle. Brut Yellow Label offers a perfect balance of finesse and forcefulness.
Featured in TASTE Magazine, Winter 2012 issue. This off-dry rosé is marked by fresh peach, nectarine and orange blossom aromas. In the mouth it has a nice balance of fruit and sweetness, retaining plenty of fresh, fruity acid structure. It's like a sparkling Vouvray but with texture and depth, nothing sugary here.