Yalumba The Strapper
Red Wine, 750 mL
Country :
Australia
Region :
South Australia
Subregion :
Barossa
Producer :

Yalumba Wines

Website :
www.yalumba.com
Alcohol :
14.1 %
Grape variety(ies) :
Grenache 57%
Shiraz 25%
Mataro 18%
Style :
Full-bodied & Smooth
Color :
Red
Classification :
Estate bottled
Container :
Coloured Glass Container
Closure :
Metal Screw Cap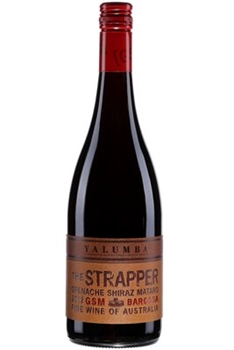 Tasting note
It's a happy coincidence that GSM, the grenache-syrah-mourvèdre blend, works equally well when you call syrah 'shiraz' and mourvèdre 'mataro.' 'The Strapper' is a strapping red, full of ripe fruit that's solid from attack to finish. It's full-bodied and full-flavoured, with good structure and acid-fruit balance. The texture is quite generous and fleshy, and there's a slight grittiness to the tannins, but nothing that gets in the way of the essential fruit. Drink this now and over the next two or three years - by the end of the decade, for sure. Score - 4 1/2 out of 5 Stars. (Rod Phillips, rodphillipsonwine.com, March 2016)
Cherry-red in colour, this red boasts a medium nose exuding woody, spicy, floral and fruity aromas. Discover this medium-bodied wine expressing refreshing acidity and offering a broad texture and fleshy tannins. It also unveils a medium mouthfeel that leads into a medium finish.
We are very excited to be able to make this classic Barossa style. The varieties G, S & M were created to go together, blending harmoniously in the bottle and glass. This is a wine that is layered and supple - like spiced red and black berry fruits, drizzled with chocolate. Finishing with rustic yet velvet tannins. Delicious with slow braised beef cheek or lamb shanks, garnished with crisp smoked Shultz's bacon and served with roasted root vegetables.
Authentic Barossa Shiraz is sandwiched between the understated fragrant perfume of Grenache and the earthy, rustic tannins of Mataro - a well-bred, strapping and savoury wine.
Rich, ripe and velvety, this is dense without being heavy-handed, with cherry, blackberry, pomegranate and spice flavours that dance through the vigorous finish. Grenache, Shiraz and Mataro. Wine Spectator 91 points.