Williams & Humbert Dry Sack
Xérès, 750 mL
Pays :
Espagne
Région :
Andalousie
Producteur :

Bodegas Williams & Humbert

Site web :
www.bodegas-williams-humbert.com
Alcool :
19,5 %
Appellation :
Jerez-Xérès-Sherry
Cépage(s) :
Palomino 90%
Pedro Ximenez 10%
Style :
Sec
Couleur :
Blanc
Contenant :
Contenant De Verre Coloré
Bouchon :
Liège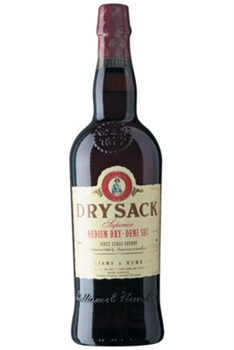 Note de dégustation
Robe orange ambré moyen; arômes de noisette, de beurre d'amande, de caramel anglais et de pelure d'agrumes; demi-sec, noyau noisetté et chaleureux, avec notes de citron et de chaleur d'alcool, finale sèche.
Robe d'une teinte jaune ambré foncé. Nez assez puissant qui dégage des parfums dominants de noix et de tabac blond. Le tout est également agrémenté par de subtiles notes boisées. Découvrez ce xérès exprimant une faible acidité. Il offre une bouche ample qui perdure dans une longue finale.
Note de dégustation (anglais)
A traditional Sherry made very dry. Intense, complex aromas.Delicate, yet full-bodied make it a great pairing to high qualitycheese, ham and seafood.
An amber-coloured wine of intense aromas suggesting dried nuts. Full-bodied and balanced, with little acid and slightly sweet.
Featured in TASTE Magazine, Winter 2012 issue. The nose of this dark sherry is powerful with caramel, roasted nuts and baking spices. The slightly sweet palate would marry beautifully with a piece of 6-month-old Manchego cheese and dried figs.