Ballantine's Scotch Blended
Scotch, 1,14 L
| | |
| --- | --- |
| Pays : | Royaume-Uni |
| Région : | Écosse |
| Producteur : | George Ballantine & Son Ltd |
| Site web : | www.ballantines.com |
| Alcool : | 40 % |
| Cépage(s) : | Whisky écossais blend |
| Style : | Léger Et Fruité |
| Couleur : | Ambré(e) |
| Contenant : | Contenant De Verre Coloré |
| Bouchon : | Liège |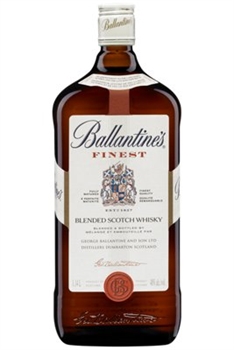 Note de dégustation
Couleur or; arômes de céréales d'orge et de tourbe; bouche légèrement sucrée, souple et ronde.
Note de dégustation (anglais)
Golden colour; barley grain and light peat aromas; soft, round and slightly sweet on the palate.
Ballantine's 12 Year Old is a rich, smooth and complex whisky, blended from specially selected single malt and grain whiskies. The result is a fully rounded blend with the perfect balance of honey, oak, fruit, spice and a creamy texture with a refreshing finish.
The blend's light gold colour and taste come from a mix of carefully selected malt and grain whiskies aged in high quality casks. Heather honey aromas with a hint of spice lead to flavours of milk chocolate, red apple and vanilla.