Gibsons Finest 12
Whisky, 750 mL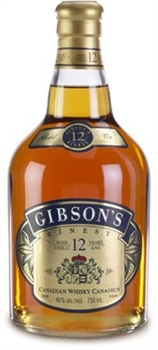 Note de dégustation (anglais)
Rich golden amber colour. Sweet toffee, toasty oak and vanilla with a hint of black licorice. Very smooth on the palate with sweet vanilla notes.
Gibsons Finest 12 has an aroma of sweet vanilla toffee with subtle oak notes. Hints of honey, candied fruit and baked apple. The taste is initially sweet with a silky texture. Subtle fruit and gentle oak developed during 12 years cask ageing. Medium length, dry finish.
This full flavoured Canadian whisky exhibits depth by virtue of its barrel-aged character, its defining feature. It excels as an ultra-smooth whisky with vanilla-sweet oakiness that carries through to the finish. Best enjoyed neat or on the rocks.
Gibson's is a popular whisky in true classic Canadian style. Fairly dry to start with a super smooth subtle sweetness in the finish that develops slowly. There is a slight spiciness with some rye and a very noticeable butterscotch flavour with some wood.