Lagavulin Double Vieillissement Scotch Single Malt
Scotch, 750 mL
| | |
| --- | --- |
| Pays : | Royaume-Uni |
| Région : | Écosse |
| Sous région : | Islay |
| Producteur : | Lagavulin Distillery |
| Site web : | www.malts.com |
| Alcool : | 43 % |
| Style : | Puissant Et Fumé |
| Couleur : | Ambré(e) |
| Contenant : | Contenant De Verre Clair |
| Bouchon : | Liège |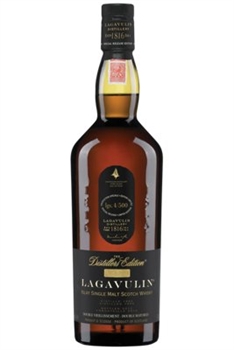 Historique des prix
Note de dégustation
Robe ambre moyen avec nuances de cuivre bruni; nez de fumée de tourbe équilibré par des notes complexes de fruits séchés, de noix rôties et de vin fortifié; merveilleusement moelleux et riche en bouche, avec notes de raisin sec, de fruits séchés, de saumure et de xérès rancio; la finale est longue et équilibrée.
Note de dégustation (anglais)
A rich, dried fruit sweetness with clouds of smoke and strong, barley-malt flavours, warming and intense. At the back of the mouth is an explosion of peppery smoke.
"Double matured in specially crafted Pedro Ximenez cask-wood. Accents of rich, sun-dried grape sweetness have been chosen to complement this spectacular single malt's rich, complex style. This is an unforgettable, richly flavoured malt whisky with intense layers of raisin sweetness and a smoky flavour. A limited release made just once a year." This product is was chosen by our expert Adele to be featured as an Insider Pick for June, 2015.