J.J. McWilliam Shiraz / Cabernet
Vin rouge, 750 mL
| | |
| --- | --- |
| Pays : | Australie |
| Région : | Australie-Méridionale |
| Producteur : | McWilliams of Australia |
| Site web : | www.mcwilliamswines.com |
| Alcool : | 13,5 % |
| Cépage(s) : | Syrah Cabernet |
| Style : | Corsé Et Souple |
| Couleur : | Rouge |
| Contenant : | Contenant De Verre Coloré |
| Bouchon : | Métal Vissé |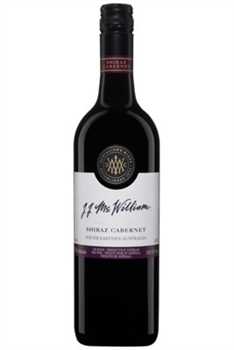 Note de dégustation
Robe rouge-rubis moyen; puissant bouquet d'eucalyptus, de cassis et de vanille; sec et mi-corsé à corsé, avec de généreuses saveurs fruitées juteuses; notes épicées sur la longue finale.
Vin exhibant une couleur rubis plutôt intense. Nez assez puissant d'où émanent des parfums de menthe poivrée et de mûre. À cela s'ajoutent des effluves de fumée. Ce rouge sec possède une agréable fraîcheur et est muni de tannins souples. En rétro olfaction, il rappelle des saveurs d'épices, de fruits noirs mûrs et de bois. La bouche d'une texture ample précède une finale assez soutenue.
Note de dégustation (anglais)
Full of raspberry, cherry fruit flavours with balanced, crisp acidity. The finish is fresh and round with plush, velvety tannins. A fragrant nose with raspberry and blackcurrant fruit flavours is complemented with spicy clove nuances.
Crimson in color with a lifted fragrant spice nose mixed with plummy aromas. A spicy medium bodied wine with a mix of red and black fruit enhanced by well integrated oak and soft tannins.
Spicy, cherry and berry fruit flavors balanced by a vanilla oak background.
A soft, medium-bodied wine with spicy, berry fruit flavours and light vanilla oak hints. The palate is soft and balanced with fine tannins for easy drinking. Try with meaty or cheesy vegetarian lasagna.