Jacob's Creek Shiraz Reserve
Vin rouge, 750 mL
| | |
| --- | --- |
| Pays : | Australie |
| Région : | Australie-Méridionale |
| Producteur : | Orlando Wines |
| Alcool : | 14,1 % |
| Cépage(s) : | Syrah |
| Style : | Corsé Et Souple |
| Couleur : | Rouge |
| Contenant : | Contenant De Verre Coloré |
| Bouchon : | Métal Vissé |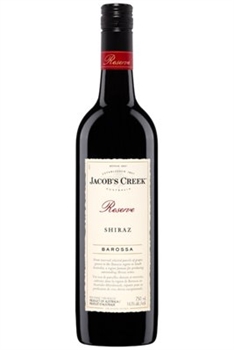 Historique des prix
Note de dégustation
Robe rouge foncé opaque; arômes de cèdre, d'anis et de fruits noirs; saveurs de fruits noirs et finale grillée de persistance moyenne.
Vin arborant une couleur rouge cerise foncé. Nez qui s'ouvre sur des arômes de menthe fraîche et de bois. Le tout est également agrémenté par fruitées et empyreumatiques. Ce rouge sec possède une acidité rafraîchissante et est muni de tannins enrobés. De plus, il rappelle des flaveurs de chocolat et de fruits noirs mûrs. En bouche, sa texture presque grasse se termine dans une finale persistante.
Note de dégustation (anglais)
This premium, full bodied wine is an outstanding example os South Australian Shiraz, displaying an intensity of ripe plum with pepper spice, balanced by soft grape and oak tannins, leading to a lingering smooth finish. An ideal accompaniment to most red meats, game and cheeses. A wine that will develop further with cellaring.
A rich core of ripe black fruits, layered subtly with black pepper and restrained, stylish oak, supported by softly textured fruit tannins and concluding with a long, savoury finish.
As featured in Taste Magazine, Spring 2013. Deep crimson, this full-bodied wine has rich fruitcake and plum aromas with a hint of spice and sweet vanilla. Flavours of mulberry, plum, chocolate and spice and an excellent fruit length make it ideal for this spicy lamb dish.