Trivento Amado
Vin rouge, 750 mL
Pays :
Argentine
Région :
Mendoza
Sous région :
Tupungato - Valle de Tupungato
Producteur :

Trivento Bodegas y Vinedos SA

Site web :
www.trivento.com
Alcool :
14 %
Cépage(s) :
Malbec 78%
Bonarda 12%
Syrah 10%
Style :
Corsé Et Souple
Couleur :
Rouge
Contenant :
Contenant De Verre Coloré
Bouchon :
Métal Vissé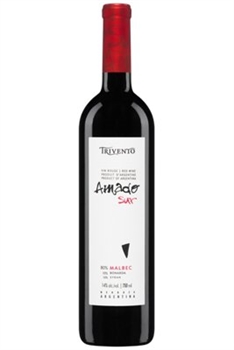 Historique des prix
Note de dégustation
Un vin rouge riche et juteux aux arômes et saveurs de petits fruits noirs, de chocolat et d'amande. Corsé, tanins mâchus et finale longue et savoureuse. Finale très saline. Impressionnant! L'assemblage renferme 79 % de malbec, 11 % de bonarda et 10 % de syrah. À son mieux en 2018. Note - 93. (James Suckling, jamessuckling.com, 20 mai 2016)
Robe de teinte rouge violacé de bonne intensité. Nez qui exhale des parfums de cassis et de violette. Exprimant une agréable fraîcheur ce rouge est pourvu de tannins fermes. En rétro olfaction, il évoque des flaveurs de fruits noirs mûrs et de fleurs. Il offre une bouche presque grasse qui se prolonge dans une finale persistante.
Note de dégustation (anglais)
Deep red with violet hues and crimson glints. From the nose, fresh red fruits like berries, strawberries and cherries combined with clove and smoke. Vanilla and toasts aromas from the oak. From the palate, presence and strong personality. Soft and exquisite tannins. Impetuous and pleasant ending. Enjoy with lamb and pears macerated in wine.
Deep red with violet hues. Red fruits like strawberries, cherries and plum jam combined with soft spicy and sweet vanilla and black chocolate aromas from the oak. Sweet entrance, gentle tannins with persistence in the mouth. Long and pleasant ending.
Rich with dark cherries, vanilla and spiced berry aromas, this wine is smooth and lush on the palate with spiced plums, meaty hints, earthy, cocoa and peppery flavours. It's beautifully presented and well-priced. Enjoy on its own or with a selection of cheeses.